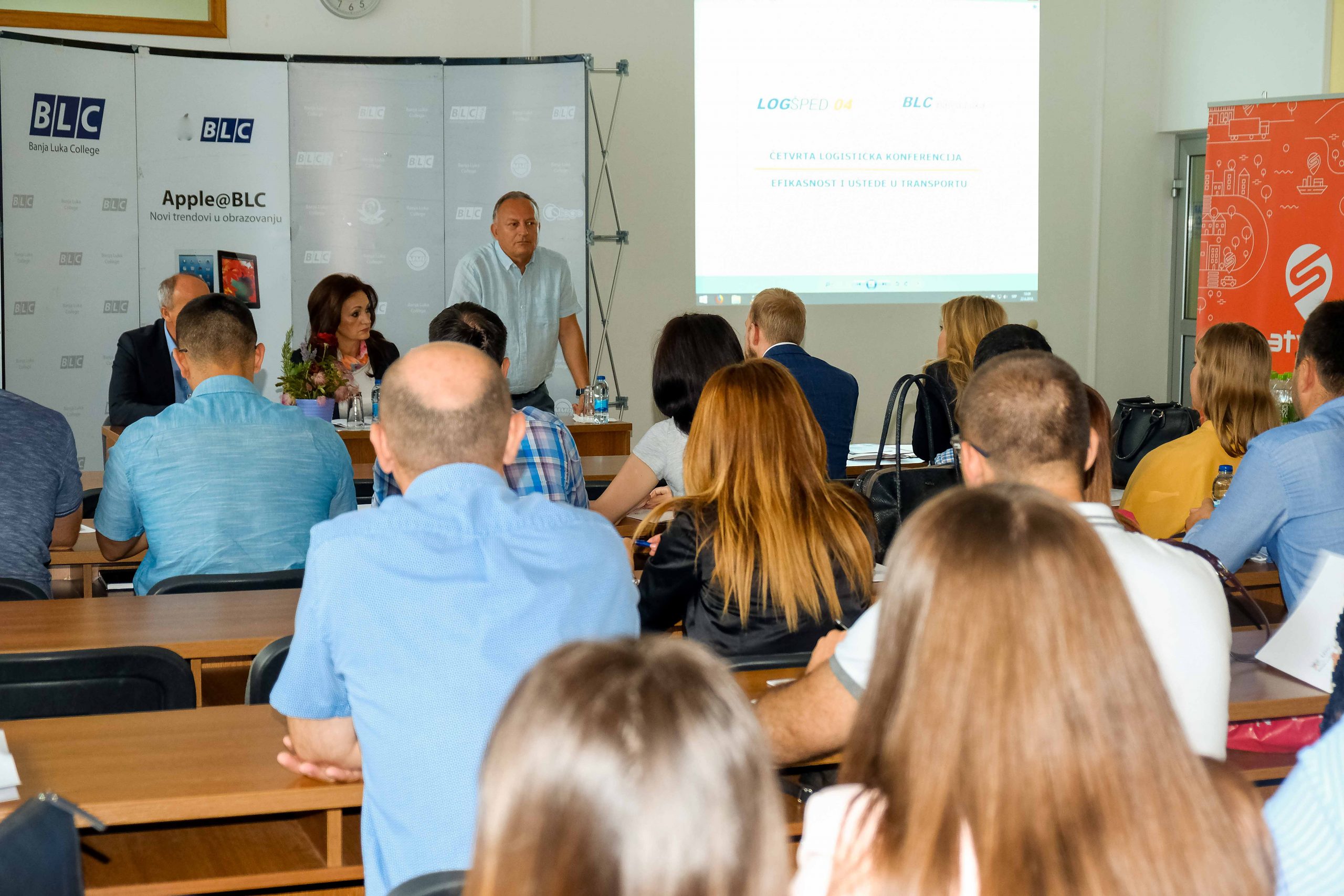 Announcement from the IV logistics conference LOGŠPED 2018
– EFFICIENT LOGISTICS = SIGNIFICANT SAVINGS FOR THE ECONOMY –
The logistics conference entitled Efficiency and savings in transport was held on June 22, 2018 in Banja Luka. The conference was organized by the higher education institution Banjaluka College, with the support of a large number of logistics experts and companies from the region.
120 participants took part in the conference. Eminent professors, representatives of educational institutions and prominent logistics experts and managers from various logistics, forwarding and transport companies, storage systems, distribution centers, trade chains and manufacturing companies took part. The conference was attended by students from Banja Luka College, as well as students from the secondary technical school from Banja Luka.
At the conference, prof. spoke about the improvement of transport and logistics processes. Dr. Milorad Kilibarda from the Faculty of Traffic in Belgrade. New services and transport management solutions were presented by Vlado Popović, "NTS Soft" Banjaluka. Alen Solina from the company "TimoCom" spoke about the services and solutions of the transport exchange, and Meliha Mujezović from "Dragon Maritime SEE" presented the services of the Chinese company COSCO. Through the panel discussion, problems, possibilities and solutions for improving transport and logistics efficiency and achieving savings were discussed in more detail.
At the conference, it was pointed out that logistics costs reach up to 25% of the total operating costs of each company . Transport represents the biggest logistics cost, which often accounts for around 40% of total logistics costs.
Logistics costs and losses are related to transportation, inventory, storage, packaging, handling, administration and operations. Losses in transport also occur due to poor use of means of transport, due to inadequate planning, organization, management and control of transport processes and engagement of means of transport and types of transport.
World experience shows that by improving the efficiency of logistics and transport processes, it is possible to achieve savings of 15-20% of total logistics costs . Logistic potentials and resources are insufficiently used. Today, only 10% of vehicles are fully utilized , while between 30 and 40% are empty.
It was heard that there are significant time losses in transport and logistics, the elimination of which can significantly reduce logistics costs.
For example, means of transport spend only about 40% of their time driving, and 60% of their time is spent on rest, loading/unloading, waiting, breaks and other losses in the transport process.
If the duration of one transport task were shortened by an hour, savings of 30-45 euros per day per vehicle would be achieved. In addition, the reliability and accuracy of goods delivery would be significantly increased.
Optimum use of means of transport can save 13-27% of total logistics costs.
The aim of the conference was to connect academic research and students with logistics practice and leading companies, which is a basic prerequisite for successful theoretical and practical development of efficient transport and logistics solutions. Direct business contacts have been established that enable students to carry out professional practice, create practical final papers, get hired faster and get involved in solving specific logistical tasks and problems.