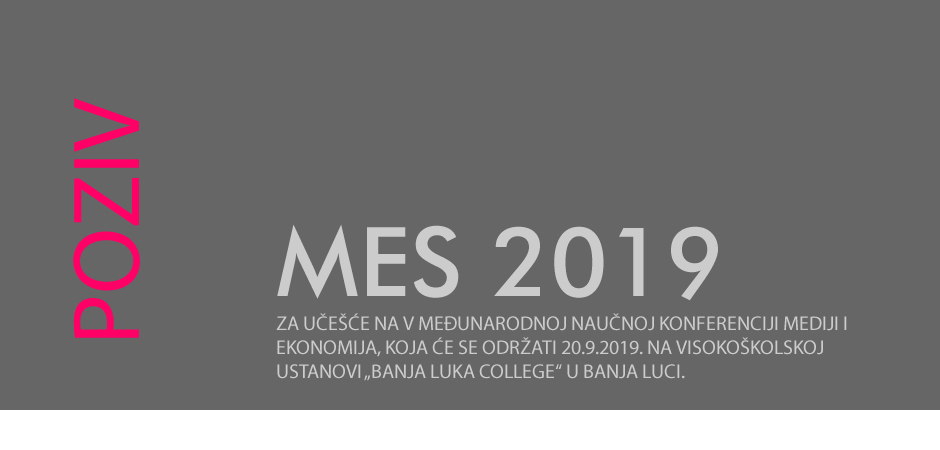 Invitation to participate in the 5th International Scientific Conference Media and Economy, which will be held on September 20, 2019.
[:en]
POZIV
Za učešće na V međunarodnoj naučnoj konferenciji Mediji i ekonomija, koja će se održati 20.9.2019. na Visokoškolskoj ustanovi "BANJA LUKA COLLEGE" u Banja Luci.
Organizatori Konferencije su Visokoškolska ustanova "Banja Luka College", Fakultet za menadžment u Sremskim Karlovcima, Univerziteta "Union Nikola Tesla" Beograd i Visoka škola modernog biznisa Beograd. 
Članovi naučnog odbora dolaze iz Srbije, Makedonije, Slovenije, Albanije, Italije, Hrvatske, Crne Gore i Bosne i Hercegovine.
Na konferenciji ćemo pokušati dati značaj savremenim temama iz oblasti medija i ekonomije, dematerijalizaciji novca, "just-in-time" proizvodnji, nestanku fizičkog kapitala i e-poslovanju u ekonomiji a što zahtijeva reorganizaciju poslovnih organizacija kroz primjenu informatičke tehnologije i Interneta. Osim toga, razvoj novih tehnologija rezultovao je promjenama u navikama čitalaca i gledalaca, što je onda povećalo značaj internetskih izdanja, ali je na drugoj strani otvorilo problem finansiranja proizvodnje novinarskog sadržaja.
Važno je pomenuti i da se ljudski rad u postindustrijsko doba značajno promijenio u različitim dimenzijama i na različitim nivoima, odnosno i u formi i u sadržaju. Dogodile su se i  promjene u funkciji elemenata društvenih sistema zbog nove podjele rada obilježene daljnjom specijalizacijom, potrebom za višim obrazovanjem i diferencijacijom postojećih djelatnosti i zanimanja, ali i nastankom sasvim novih djelatnosti (tercijarizacija) te nestankom starih, sada nepotrebnih (deindustrijalizacija). Zatim, dogodila se promjena i u granicama društva i njegove i okoline, ali i u okolini samoj. Upravo takva iskustva i naučna saznanja, do kojih ste došli u procesu istraživanja, nama su dragocjena i želimo da ih predočite naučnicima i stručnjacima iz različitih oblasti u okviru glavne teme za pisanje radova:
Digitalizacija medija
Opstanak štampanih medija
Tehnološke inovacije i mediji
Etički izazovi digitalizacije
Modeli pretplate
Jezik Interneta
Sloboda medija
Novi mediji
Budućnost radija
Terorizam i mediji
Migracije i ekonomije
Buduća slika Evrope
Izazovi tehnoloških inovacija
Globalni mediji i mladi
Korporativni kapitalizam i mediji
Etika i globalizacija
Autorska prava
Uticaj medija na djecu
Javni servisi u tržišnoj ekonomiji
Odnos politike i medija
Uloga i značaj medija u ekonomiji
Obrazovanje i digitalizacija medija
Zaštita životne sredine i obrazovanje
Ekološki menadžment i društvena odgovornost 
Opismenjavanje u ekonomiji
Društvene inovacije i preduzetništvo
Outsourcing u globalnoj ekonomiji
Nestandardni oblici zapošljavanja
Odliv mozgova iz zemalja u razvoju
Virtualizacija preduzeća 
Upravljanje procesom tranzicije ka održivoj potrošnji
Privatno vlasništvo i ekonomski rast – ograničenja i izazovi
Digitalna transformacija gradova – stvaranje pametnih gradova
Izrada i primjena e-marketinške strategije u poslovanju preduzeća 
Ekonomske implikacije migracija
Inovacije budućnosti – trendovi, prilike 
Korištenje novih medija u internoj komunikaciji
Teorija igara i njezina upotreba u rješavanju ekonomskih problema 
Značaj i vrednovanje intelektualnog kapitala u okviru nematrijalne imovine
Primjena moderne informacijske i komunikacijske tehnologije
Integrisani urbani razvoj
Pozivamo Vas da uzmete učešće u radu skupa, sa ili bez rada. Učesnici koji žele da učestvuju sa radom, treba da pošalju prijavu na e-mail medijiiekonomija@blc.edu.ba (subjekt: međunarodna konferencija).
Uputstvo autorima za izradu radova:
– Referat za naučnu konferenciju treba biti obima do 10 strana A-4) pisanog na maternjem i/ili engleskom jeziku (Times New Roman, 12 pt, prored 1,5, margine 2,5, naslovi velika slova).
Kotizaciju za učešće na Konferenciji za autore u iznosu od 50 KM (25 evra), a za koautore 30 KM (15 evra), potrebno je uplatiti na žiro račun BLC-a broj 154921 – 2002636872 kod Intesa Sanpaolo banka, sa naznakom za naučni skup Mediji i ekonomija.
| | | | | |
| --- | --- | --- | --- | --- |
| Kotizacija  | Kotizacija za autore  | Kotizacija za koautore  | Kotizacija za magistrante i doktorante  | Kotizacija za učesnike bez rada |
| Do 25.08. 2019. | 50 KM (25 evra) | 50 KM (25 evra) | 30 KM (15 evra) | 20 KM (10 evra) |
Deadlines:
– rok za predaju sažetka rada: 15.07.2019.
– rok za prijem kompletnog rada 30.07.2019.
– rok za recenzije i odgovore autorima 25.08.2019.
– uplata kotizacije 25.08.2019.
Svi radovi biće štampani prije konferencije u Zborniku radova https://www.blc.edu.ba/mes- 2015/
Troškove smještaja snose učesnici Konferencije, a detalje o preporučenom smještaju moguće je naći na web stranici Turističke organizacije grada Banja Luka http://www.banjalukatourism.com/index.php?option=com_k2&view=item&id=113:hotelbosna& Itemid=64&lang=en
[:]