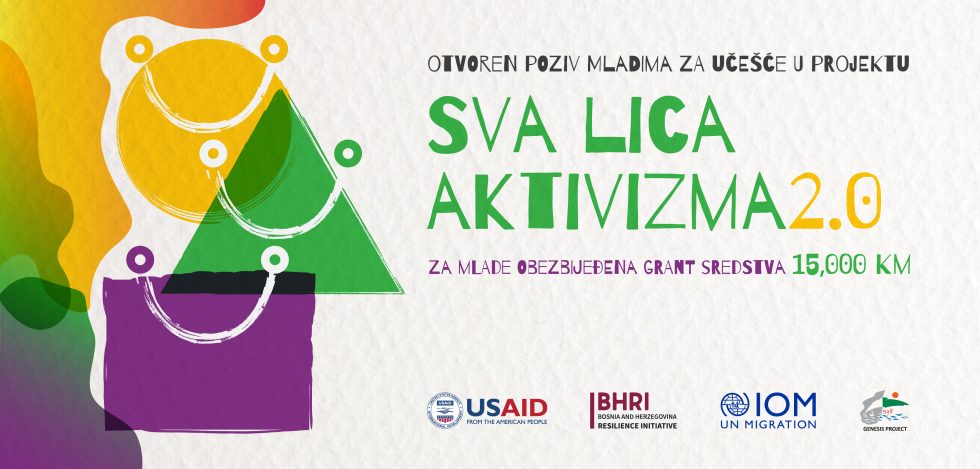 Open invitation to young people: Grant funds in the amount of 15,000 KM have been provided for youth initiatives
Poziv za učešće u projektu "Sva lica aktivizma 2.0" kroz koji su obezbijeđena grant sredstva u ukupnom iznosu od 15,000 KM za provođenje 10 omladinskih zagovaračkih inicijativa ili aktivnosti otvoren je danas. Poziv je otvoren do 11. aprila, a mogu se prijaviti mladi od 15 do 30 godina iz opština Banjaluka, Kotor Varoš, Čelinac, Prnjavor, Srbac i Laktaši.
Mladi se mogu prijaviti samostalno, u paru sa nekim ili u malim timovima (3 osobe i više) putem ovog linka.
Kroz ovaj projekat, 50 mladih osoba će učestvovati u radionicama, mentorskim sesijama i dijalozima koje će organizovati Genesis Project, a čiji je cilj da mladi osmisle svoje projekte, odnosno zagovaračke inicijative ili aktivnosti u svojim lokalnim zajednicama.
Na kraju ovih radionica biće odabrano 10 omladinskih zagovaračkih aktivnosti za čiju realizaciju će biti dodijeljena grant sredstva u ukupnom iznosu od 15,000 KM.  Za sve dodatne informacije o ovom projektu i načinu učešća biće organizovane  informativne online sesije putem ZOOM aplikacije u sljedećim terminima:
Projekat "Sva lica aktivizma" realizuje humanitarna organizacija "Genesis Project" iz Banjaluke, zahvaljujući podršci programa Bosnia and Herzegovina Resilience Initiative (BHRI), koji sprovodi Međunarodna organizacija za migracije (IOM), uz finansijsku podršku Američke agencije za međunarodni razvoj (USAID).
Cilj projekta je jačanje mladih aktivista za zalaganje za pozitivne promjene u navedenim opštinama koje donose korist njima i drugim mladim ljudima oko njih.  COVID-19 pandemija je sa sobom donijela različite psihološke i motivacijske izazove za mlade ljude. Zbog toga, mladima se sada pruža prilika da na kreativan način jačaju svoje kompetencije i grade svoju otpornost ka ovakvim izazovima.
Genesis Project kroz ovaj projekat želi da ojača lokalni aktivizam i motiviše mlade na društveno-koristan angažman. Aktivnosti u projektu ponudiće mogućnosti za međusobno povezivanje i razmjenjivanje ideja sa mladima iz svih šest zajednica.