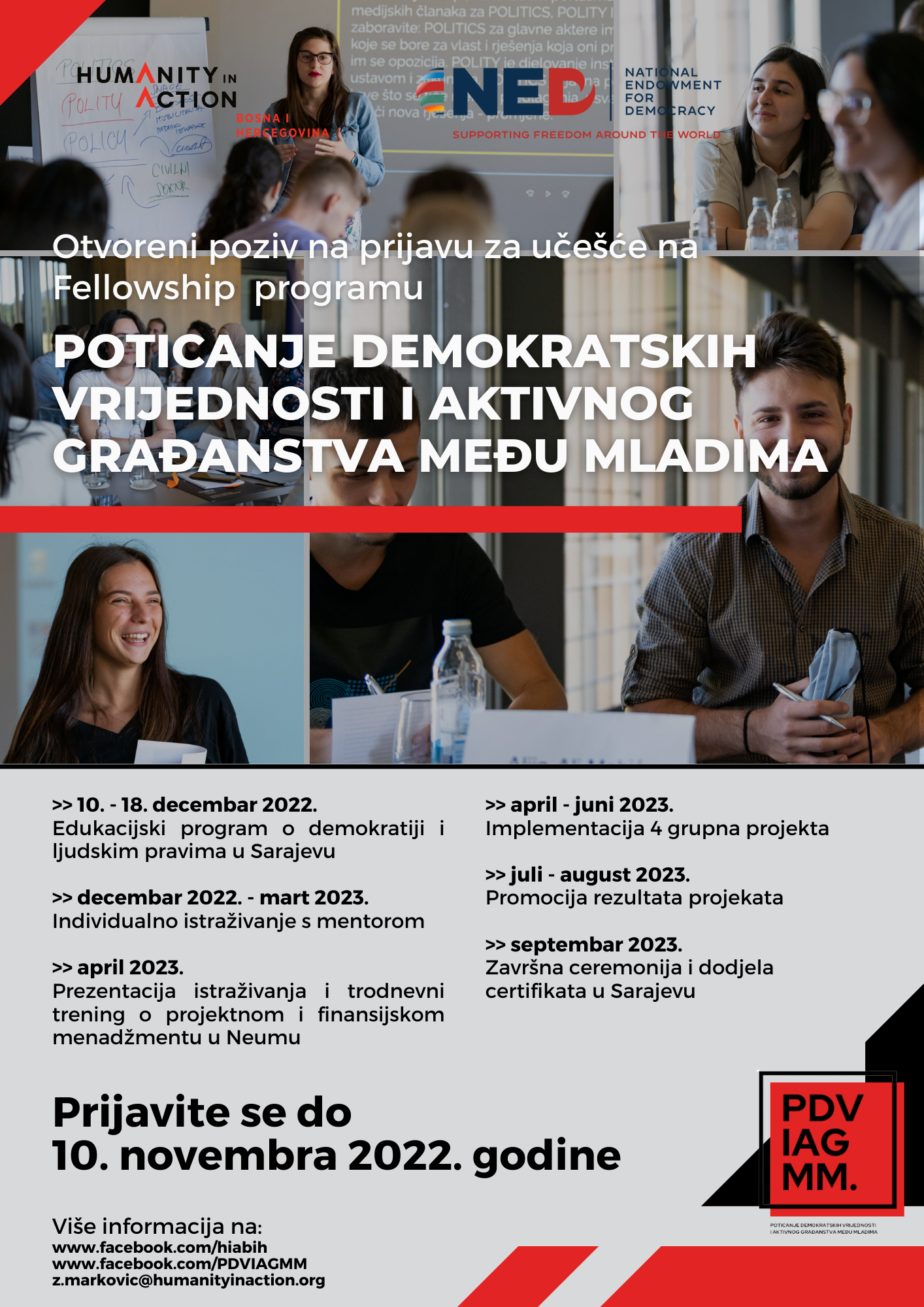 OPPORTUNITY FOR STUDENTS - Calls for participation in the Humanity in Action PDVIAGMM program
Dear fellow students,
The Humanity in Action Foundation BiH runs the program 'Encouraging democratic values and active citizenship among young people' , which is implemented with the financial support of the National Endowment for Democracy USA.
We invite you to apply for participation in the program and gain new knowledge and experience.
About the program PDVIAGMM is a ten-month program intended for undergraduate students from all over Bosnia and Herzegovina, which aims to impart knowledge about democratic principles and human rights, to stimulate critical thinking about sensitive topics, and to encourage the development of communication and research skills among participants. The program consists of the following components: • The nine-day educational program (December 10-18, 2022) primarily aims to impart knowledge about different models of democracy, democratic values, basic postulates of active citizenship and democratic political culture, human rights, nationalism and identity, and youth activism. The practical component of this part of the program will be focused on the development of leadership and communication skills, on promoting the use of social networks for the purpose of activism, and on the development of research skills. • Individual research (December 2022 - March 2023) will enable participants to research an issue of their interest, which in a broader sense refers to existing obstacles that prevent the effective participation of young people in their communities, i.e. to examples of discrimination or human rights violations young people. Participants will also be assigned mentors that they will be able to consult in the research process. • A three- day project management training (April 2023) represents an opportunity for the presentation of research, but also the development of skills in the field of project and financial management. As part of the training, participants will also be divided into 4 groups and work together to develop project ideas that will try to address some of the issues identified during the research phase. At the end of this seminar, each group will have designed a mini-project and will receive funds for its implementation. • Implementation of group projects (April - June 2023) Participants will have three months to implement their mini-projects and thus apply the knowledge and skills they have acquired in the previous phases of the program. • Promotion of the results of group projects in the media and the impact on the local communities where they were implemented (July-August 2023) • The final ceremony (September 2023) will be an opportunity for the presentation of realized mini-projects, but also the development of a discussion on issues of importance for young people. All participation costs for 15 students are borne by the organizer. Upon completion of the project, participants will be awarded certificates.