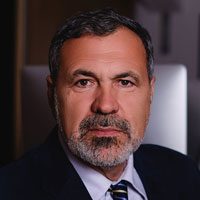 Prof. Dr. Miloš Babić
Media theory and artistic production
Prof. Dr. Miloš Babić was born in 1958 in Gračanica, Bosnia and Herzegovina. He finished high school with excellent results, and graduated from the Faculty of Philosophy in Sarajevo, at the Department of Literature with the subject Transposition of the epic folk poem Banović Strahinja into drama and film (9.25) . He received his master's degree in the field of media theory and marketing, on the topic of television advertising and advertising campaigns (9.75) , and his doctorate on the topic of the role of TV spots in emotional branding in Belgrade and Novi Sad.
While studying at the Faculty of Philosophy in Sarajevo, he started writing for newspapers, from associate to journalist, as well as assisting on films. As a distinguished associate, on the recommendation of the Association of Film Workers of Bosnia and Herzegovina, he began education in filmmaking (from volunteer, assistant to assistant director) assisting important filmmakers in Bosnia and Herzegovina at that time (S. Tanović, H. Krvavac, B. Čengić, M. Idrizović, N. Stojanović, E. Kusturica...).
During this period, going through all the stages of film creation, he develops artistic skills and masters the film language, and as a talented collaborator, he participates in the creative creation of many significant film achievements in Bosnia and Herzegovina and the region. After receiving awards for independent works of art, at national and international festivals, he acquired the title of film and TV director .
His artistic pursuit of film continued upon his arrival in Belgrade, and he continued to shoot short feature films and documentaries, for which he was awarded in our country in the world, and spent a significant period of his work (20 years) in the status of a freelance artist (with the title of film and TV director). During that time, he also finished his master's studies at FDU, directed TV productions, wrote scripts, hired staff for film crews and TV companies that were just being created.
In addition to his artistic work in film, he significantly influenced the production of modern TV commercials in the media space of the former Yugoslavia, where he built his own artistic expression as an author. Success in film and TV artistic production, and familiarity with promotion, leads the author to engage in promotional activities in advertising campaigns, which will later be theoretically shaped through his master's thesis.
"Feeling that important border between reason and emotion, when it comes to propaganda, he successfully defended his doctoral dissertation on the role of TV spots in emotional branding . The dissertation was indeed an important basis for his address to students and successful overall pedagogical work at the faculty" - prof. Jelica Đokić, Faculty of Dramatic Arts, Belgrade (from the Report on the selection for associate professor in 2007).
Today, Miloš Babić is a full professor of media and communication theory, moving and photographic images, cultural management and artistic production. He wrote 15 books and 3 monographs in the field he studies and teaches, and is the author of over 100 scientific and professional works. He published and presented his research from his master's thesis and doctoral dissertation to the public, as well as to his students. He is the mentor of many graduate theses, 6 master's theses, 25 master's theses and 3 doctoral dissertations. Also, he is the mentor of many graduate films and art projects, at undergraduate, master's and doctoral studies. He is the author of academic study programs in the region for the study of media and artistic production.
He is a full professor in Sremski Karlovci at the Department of Media (FAM) and at the Faculty of Contemporary Arts in Belgrade (up to one third of the norm). He is also a regular professor at Banja Luka College and a professor at the Academy of Arts in Banja Luka.
He lives and creates in Belgrade, and periodically stays in Banja Luka, during the teaching process.