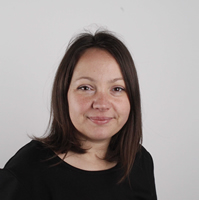 MSc Vesna Đurović
ENGLISH LANGUAGE
She was born in 1980 in Banja Luka. She completed primary and secondary school in Banja Luka. She graduated from the Faculty of Philosophy in Banja Luka, Department of English Language and Literature in 2006. She received her Master's degree from the Faculty of Philology in Banja Luka in 2013, defending the thesis entitled 'Morality and the objectification of the body in the novels of DH Lorens.' She completed the specialist study 'Teaching methodology in higher education and interculturality' at the Faculty of Philosophy in Banja Luka in 2012.
Before being employed at Banja Luka College, she worked as a teacher of English language and literature in O. Š. Ivo Andrić and O. Š. Vuk Stefanović Karadžić, and at the school of foreign languages 'Oxford Educational Center'.
She was named in the subjects English Language 3, English Language 4 and English Language 5.
CV